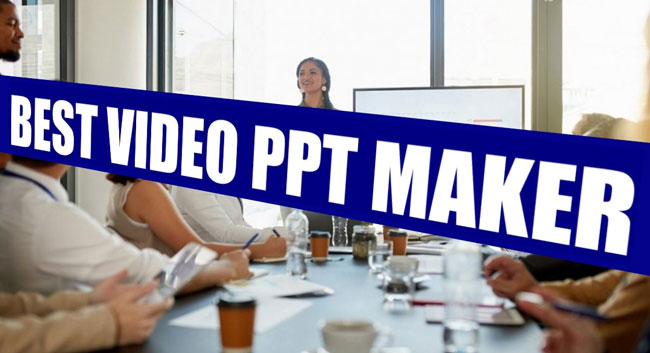 Video presentation has everything it needs to capture people's attention and no one but hopes to give a concise and comprehensive video presentation before others. However, choosing the video maker for presentation in the market is always an arduous task for some of them are expensive, shortage of video elements, and even likely going to crush. Take it easy! Herein we are going to share with you the 8 best video makers for presentations on PC, Mac, & Online. And all the tools discussed here will help you create excellent video presentations easily and quickly. So, just dig into the details to learn about the tools and choose one that suits your requirements.
8 Best Video Makers for Presentation Offline/Online
Top 1. AceMovi Video Maker for Presentation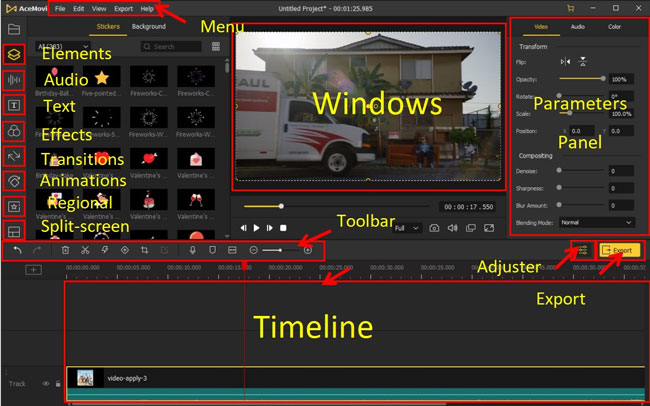 As the best video maker for presentation to choose from, TunesKit AceMovi has attracted millions of users worldwide because of its easiness and versatility. With AceMovi, not only can you make a video presentation with static/dynamic text templates, background audios, animations, and transitions, but you are granted to apply some advanced effects like PiP, split-screen, reverse, blurring, slow-mo, chroma key, etc.
AceMovi presentation video maker is now available in both free and paid versions, and you can start it with the free version to understand all the built-in PPT video editing features without any limitations like expiration period or downloading video numbers.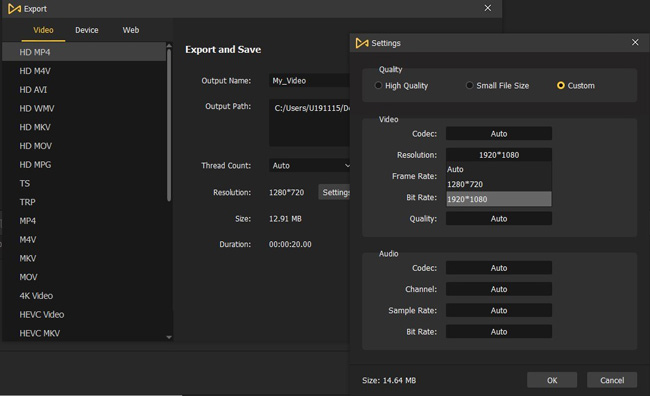 Another exciting feature of AceMovi is the ability to save projects in different formats. It supports all the video and audio formats like MP4, MKV, WMV, MPEG-2, DVD, AVI, and GIF, along with the possibility to save a project for specific devices or social platforms such as YouTube and Facebook.
If you want to use AceMovi to make the video presentation, try to follow the Quick Start: Download AceMovi and then launch it > Drop your video clips under the timeline > Unfold the 9 item trays to apply texts, sound, animations, etc. > Use the tools like split, crop, and reverse from the toolbar > Export the new-made PPT video by clicking the Export icon. Very easy, isn't it? You can click the button to download AceMovi for fun.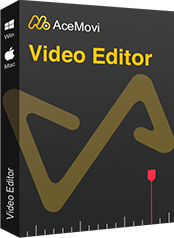 Key Features of AceMovi Video Editor
Security Verified. 5,481,347 people have downloaded it.
Pros:

Intuitive interface with clutter-free timeline and item trays
Advanced editing features include revserion, PiP, split-screen, etc.
Very simple learning curve for nrecomers
Supports popular video/audio/image formats
Full HD editor & set ratios as 16:9, 4:3, 9:16, 1:1
Free version available for Windows and Mac
Real-time preview & responsive windows redering
Cons:

It does not work on Linux
Top 2. Biteable Video Maker for Presentation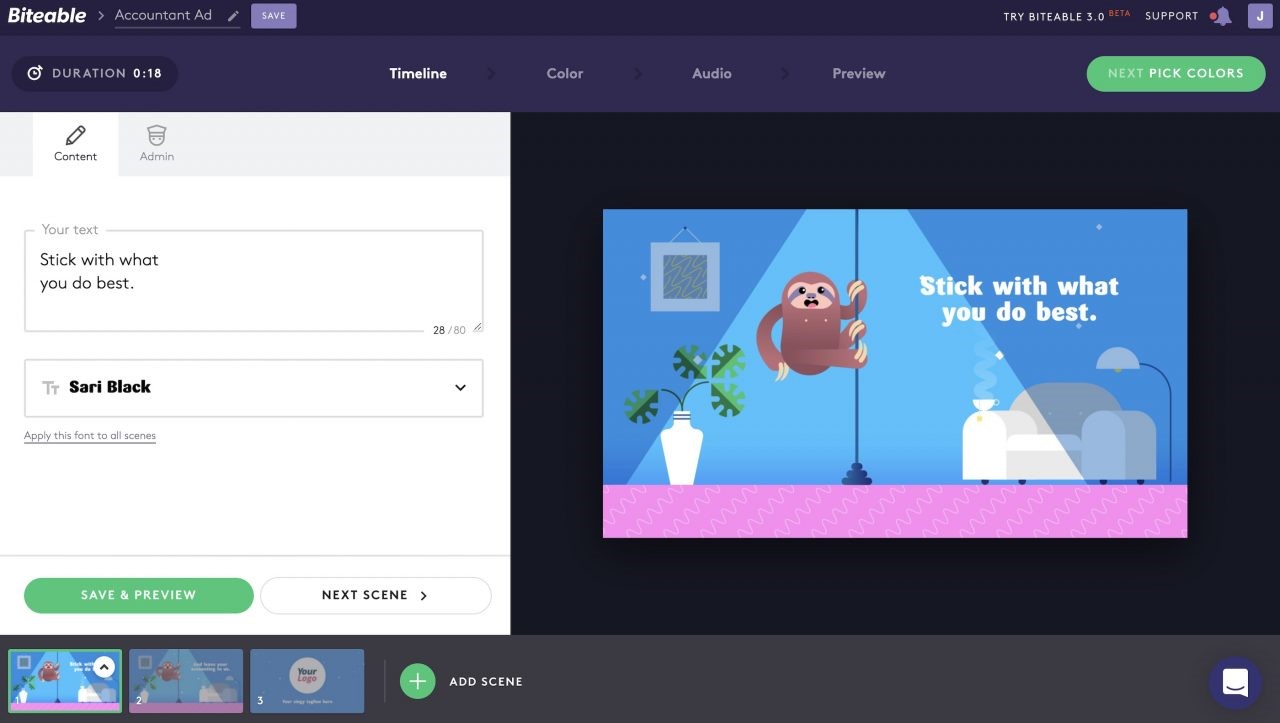 Biteable is a free & fully web-based video presentation maker. With Biteable, you can produce animated graphics to live-action videos in a few minutes by selecting the pre-made templates, text, and music. Most importantly, Biteable supports you to create videos for business advertisements, presentations, logo animations, invitations, and slideshows and helps generate video infographics.
To use Biteable in making video presentations, you need to sign up > Begin with a video template for presentation or a blank project > Edit the video with transitions, texts, etc. > Export. If you need the watermark removal service, you need to upgrade by paying $49 monthly with a year-plan commitment or $99 per month without restriction.
Pros:

Professional animations and videos
Simple to use
No software downloading
No download required
Predesigned templates
Cons:

Cannot change font
The free version has a watermark
Top 3. Vidyard Video Maker for Presentation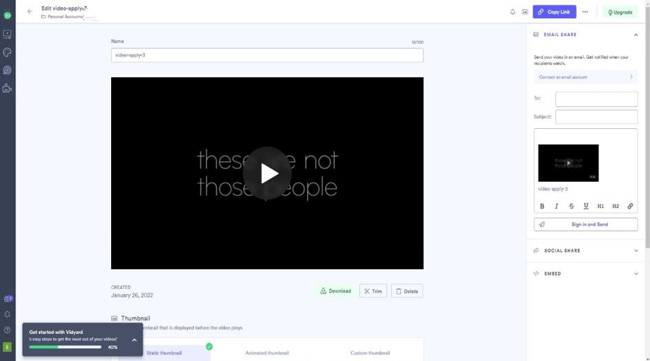 Vidyard, as one of the best video presentation makers, is a free tool to create, edit, and share videos online. Specifically speaking, you can add music to Google Slides, create PowerPoint presentations with a plethora of features like voiceovers, speaker bubbles, and other modifications by recording the screen and narration. You can also create videos on a computer, web browser, or mobile device and share them with a couple of clicks.
And to use Vidyard to make video presentations, you are required to log in > Learn from basic guides > Upload videos > Edit with tools like video trimmer, cropper, and converter > Download or share with others via URL.
Pros:

Support URL-copy sharing
Screen/camera recorder
Voice-over
Create instantly shareable videos
Track views of the videos
Cons:

Lacks advanced editing tools
Absence of creative features
Top 4. Wideo Video Maker for Presentation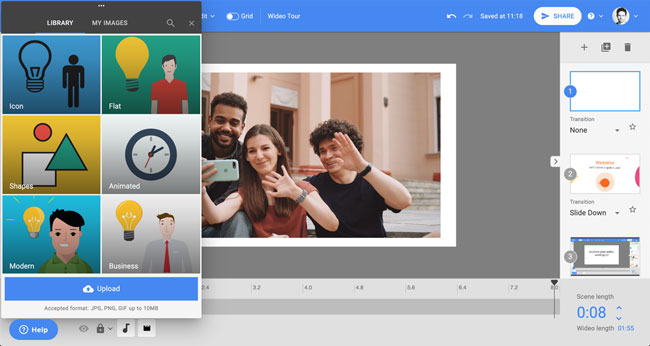 Wideo presentation video maker allows you to create animated video presentations in a few minutes. It is one of the quickest out there to create excellent content. More importantly, the presence of numerous video templates makes things easier and allows the creation of quick educating videos to social media clips. Wideo presentation maker is ideal for users who need to create quick videos with less customization.
And to use Wideo, you need to sign up > Upload videos or commence with a new project > Edit the wanted presentation video with stickers, background sound, animations, and more > Download the new-made video.
Pros:

Intuitive interface
Multiple templates to select
Able to create a video within 5 minutes
Select from a huge library of stock videos
Cons:

Fewer customization options
Lower subscription packages have limitations
Top 5. Camtasia Video Maker for Presentation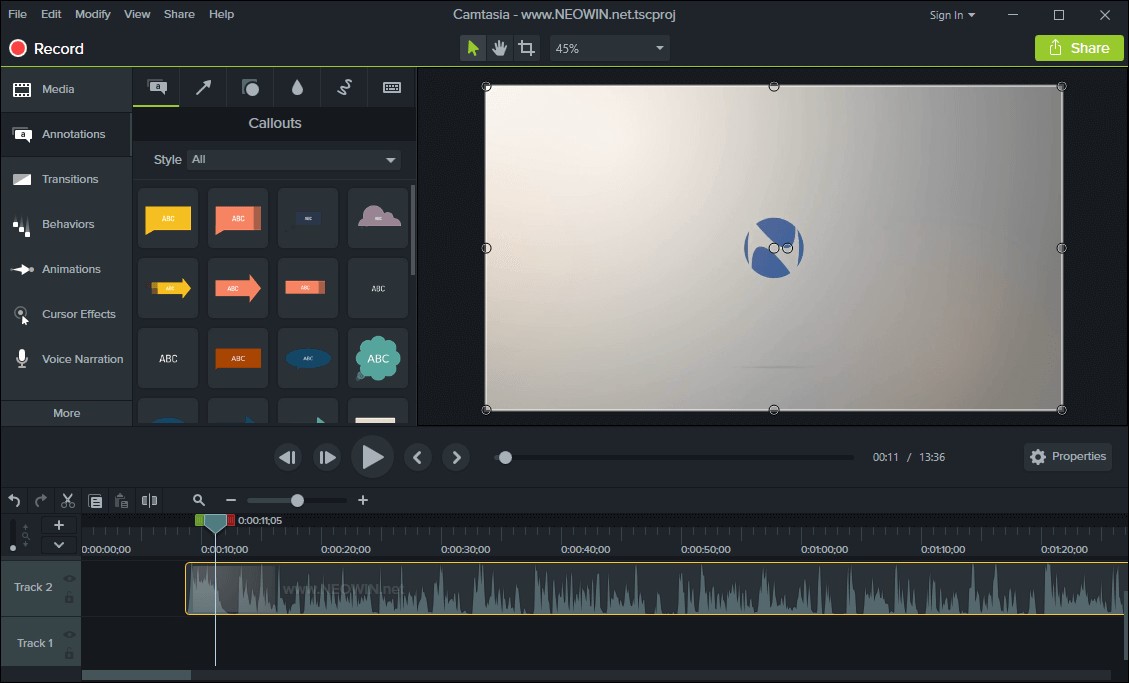 Camtasia is a free video presentation maker with a strong user base because of its ease of use. Camtasia is very simple to learn and users are granted to try a plethora of basic video editing tools without any technical background. And the screen recorder allows capturing specific portions of the screen or the entire window.
To use Camtasia to make your video presentation, you should download Camtasia > Upload video clips or start with a fresh workflow > Add texts, behaviors, annotations, cursor effects, etc. > Tap the Share icon to download.
Pros:

Unlimited tracks to add
High compatibility
Easy to publish and share
Customizable canvas and timeline
Cons:

No web-based options
It does not support a digital camera
Top 6. PowToon Video Maker for Presentation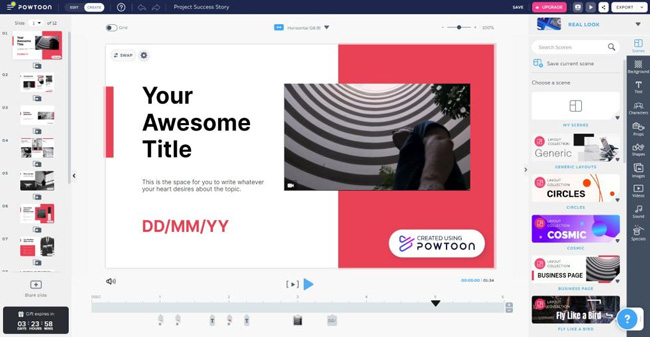 PowToon video maker for presentation is a free online tool to help create animated and intuitive video presentation projects. PowToon is clutter-free and by which one does not require prior video editing experience. The entire PPT video editing process on PowToon.net is very easy yet the results are professional. You can create animated slides with audio, embedded videos, and narration within a few clicks.
And to use PowToon to make a video presentation, you should log in > Choose from video presentation templates or start with a new workflow > Unpack the item containers set on your right hand like Background, Text, Characters, and Props. > Click the Export icon to download the video as MP4 or share by URL.
Pros:

Free and simple to operate software
Supports video as Horizontal (16:9), Square (1:1), or Vertical (9:16)
A plethora of ready-made video presentation templates
Easy content sharing
Cons:

Sparse functionality
No auto-save feature or save as an offline version
Top 7. iSpring Presenter for Video Presentation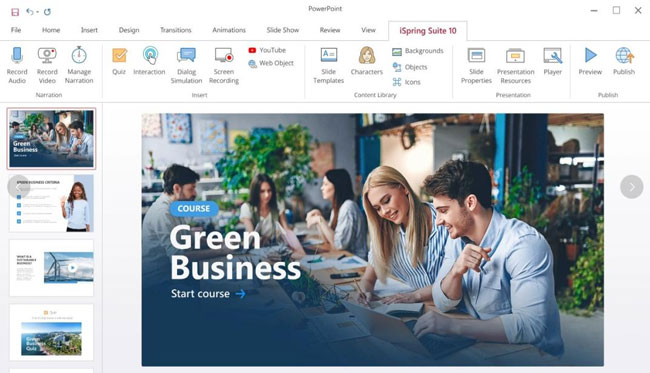 Being a free & multi-functional video editing software for PC, iSpring Presenter is an alternative to Adobe's product, offering an efficient way to transform a PowerPoint file into a video presentation. And iSpring video maker for presentation allows you to create content and add narration apart from music. It is suitable for business training professionals and educators and is the best PowerPoint add-in.
To use iSpring Presenter, you need to download it as an add-in in PPT > Launch it and then convert your PPT into video presentation > Or you are allowed to record new video and audio to begin a new project > Find the menu dropdowns to try built-in animations, transitions, overlays, and more.
Pros:

Lossless PowerPoint to HTML5
Complete support to effects, transitions, animations, etc.
Extended LMS support
Granular reporting for courses and assessments
Easy to publish
Cons:

Requires MS PowerPoint
No screen recording feature
Top 8. Vyond Video Maker for Presentation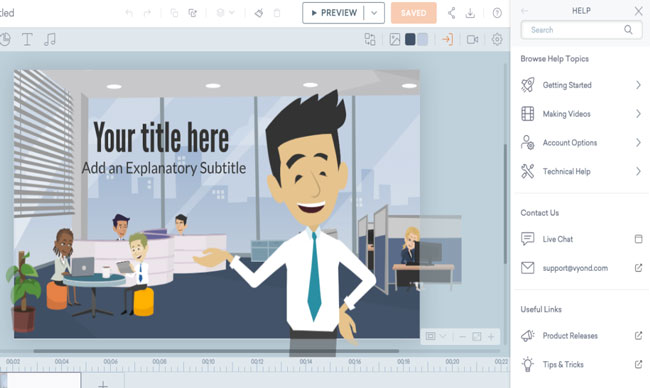 Vyond presentation video maker helps you easily create e-learning, marketing, and training videos. The library of backgrounds, props, music, characters, sound, videos, and tracks is available across different topics and industries. Moreover, Vyond's customer support is exceptional and proactive and provides all the help and training to get started without hassle.
To use Vyond to make the video presentation, you need to visit it online > Log in > Import your PPT to convert into video or begin a new one by getting into the Making Videos plate > Edit videos with sound, text, filters, transitions, etc. > Click the Save icon to download video.
Pros:

Hassle-free voice recording
Web-based so that you can use it just by a browser
All-sided tutorials
Cons:

Raspy synthetic voice
Customizations require a premium subscription
Comparison Chart - Differences among the 8 Video PPT Makers
This is a comparison table to compare the differences among the 8 best video makers for presentation, you can acquire information such as user OS, learning curve, functions, and templates.
| | OS | Learning Curve | Salient Functions | Video Presentation Templates | Music Library |
| --- | --- | --- | --- | --- | --- |
| AceMovi Video Editor | PC/ Mac | Simple | Screen/camera recorder, slideshow maker, PiP, Reverser | Fewer | More |
| Biteable | Online | Complicated | Produce graphics to live-action videos | More | More |
| Vidyard | Online | Simple | Video templates | More | More |
| Wideo | Online | Simple | Setup content creation game | More | Fewer |
| Camtasia | PC/ Mac | Simple | Customize Behaviors | Fewer | Fewer |
| PowToon | Online | Simple | PPT file converter | Fewer | More |
| iSpring Presenter | PC | Complicated | E-Learning toolkit | Fewer | Fewer |
| Vyond | Online | Simple | Automatic lip-sync | Fewer | More |
Conclusion
Hoping you can use the tools discussed here to create amazing video presentations with just a few clicks. In addition, the detailed information provided, along with the pros and cons of each tool, makes it easy to choose the right maker for your needs. If you have some questions, just leave your comment below and we will reply to you ASAP.