Since the craze of social media platforms is increasing daily, the role of content creators has also evolved automatically.
Content creators post videos on social media platforms, including YouTube, and earn money to have a great living. However, to make the video look top-notch, opting for a video editor for content creators makes complete sense.
This guide lets you explore the 8 remarkable video editing tools and the best editing software for content creators.
Part 1. TunesKit AceMovi - Best Video Editor for Content Creators
Having a simple user interface despite offering the professional features makes a video editor for content creators stand out.
Finding the perfect thing about any aspect is next to impossible, but the arrival of TunesKit AceMovi Video Editor has turned the table left, right, and center.
With mind-blowing video editing techniques to make your video look stunning, AceMovi emerges as the best video editing software for content creators. This video editor for content creators works beyond your imagination, helping you swiftly generate worth-watching and appreciable content.
AceMovi Video Editor has features you can only dream of getting in other video editing tools. For instance, you can explore the advanced features, including filters, overlays, picture-in-effect, green screen, split screen, transitions, and more.
Creating the slide show of a video and using the built-in stock library while adding the stickers, animation, and music are also among the credentials of TunesKit AceMovi Video Editor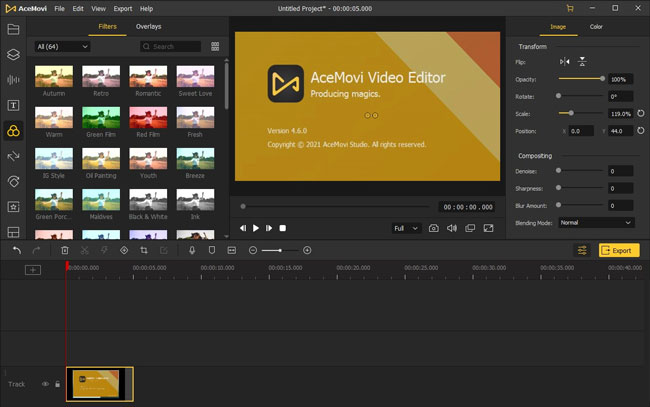 Pros:
Multiple filters, patterns, sound effects, text, transitions, etc.
Offers the user-friendly interface
Supports the numerous output and input formats
Export the videos to various social media platforms
Change the audio/video parameters, codec, framerate, sample rate, etc.
Cons:
The free version doesn't come up with the advanced features
Part 2. 7 Other Video Editors for Content Creators
1. Premiere Pro
If you want to enhance the productivity of your video content and are looking for the best video editing software for content creators, giving a shot to Premiere Pro won't be a regrettable decision.
However, triggering a warning about Adobe Premiere is also paramount as newcomers won't enjoy using the software, citing the hectic and professional user interface. Premiere Pro comes up with all the editing effects needed to make a video look flawless, and the best thing about those effects is that they are all organized into different workspaces.
Apart from importing video of 4K or 8K, Premiere Pro also allows you to change the formats of your video without compromising the video's quality.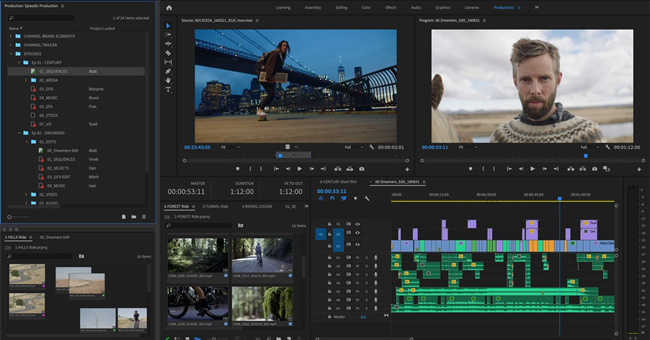 Pros:
Free updates
It comes up with brilliant video editing features
ProRes RAW support
Cross-platform
Cons:
It offers a highly hectic user experience
2. CybeLink PowerDirector 365
You all would surely want to look for a video editor for content that helps you to sit back and enjoy the features of that video editing software.
Luckily, CyberLink PowerDirector 365 could be considered that tool, and rightly so. It is one of the most simple and attractive, and we'll design video editing software for content that will help you enjoy complete control over editing the video.
It has various intuitive controls that speed up video editing, including the overlay channel beneath the timeline's primary video and automatic gap-filling. Although CyberLink PowerDirector 365 is a free and manageable video editing tool, new users can still find it difficult to operate this software for various reasons.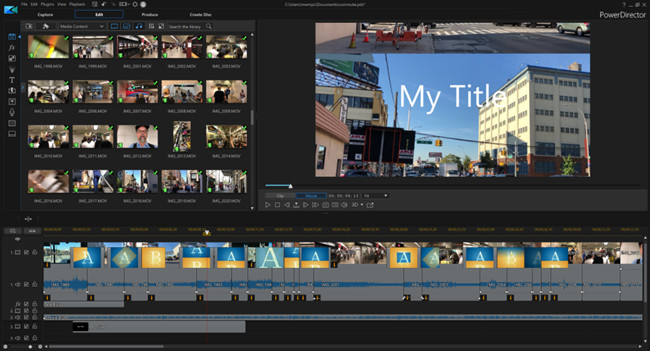 Pros:
100-track timeline
Manage user interface
It doesn't affect the quality of the video
Offers stunning, eye-catching themes and filters
Cons:
It doesn't come up with a lot of video editing features
3. DaVinci Resolve Studio 18
DaVinci Resolve Studio 18 is undoubtedly a commendable software that could be a contender for the best video editor for content creators. However, with DaVinci Resolve coming into the market, you can explore many video editing features that you did with DaVinci Resolve.
After being initiated as coloring grading software, DaVinci Resolve Studio picked up the pace and introduced remarkable editing features. At times, the interface of this video editor for content creators could be demanding but once mastered the interface, exploring the video editing effects will be easy.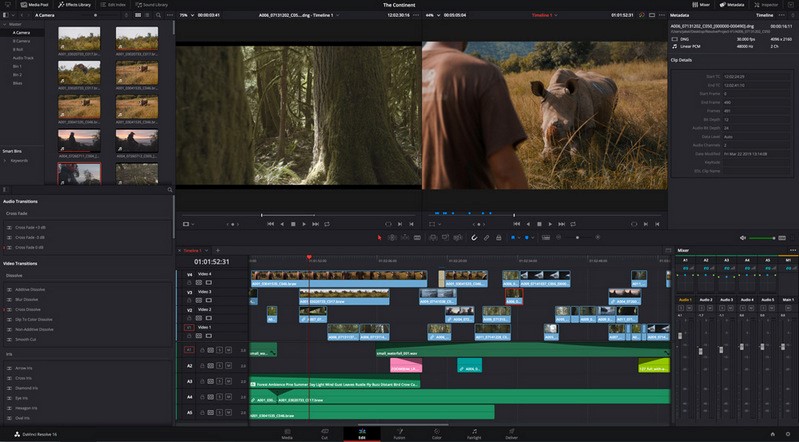 Pros:
It comes up with the tremendous color-grading features
Offers the manageable user interface
The free version comes up with the appropriate video editing features
Supports the Linux, MacOS, and Windows
It supports uploading the 8K version
4. Pinnacle Studio
If you're a content creator willing to edit a video for a social media audience, you must be familiar with the Pinnacle Studio.
Although this editing tool has all the attributes needed to become the best editing software for content creators, it is still underrated. With 1500 titles, effects, templates, and themes and providing its user with a brilliant tutorial to learn how to use it, Pinnacle Studio is worth talking about.
Despite being a low-profile video editor for content creators, it still has many advanced features, including six-track video editing, a stop motion feature, good color correction tools, and more. This video editor for content creators blesses you with other features: keyframe groups, 8K import, advanced blend modes, and more.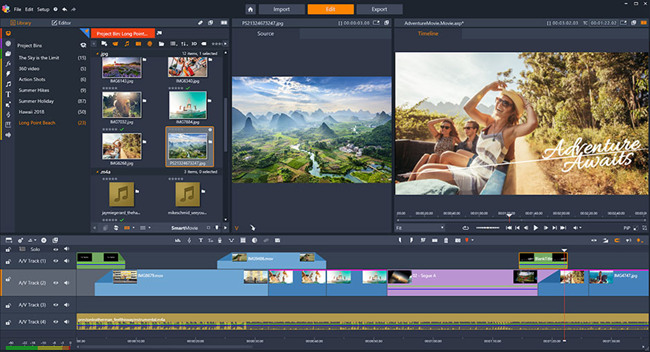 Pros:
Simple user interface
Strong audio tools
Masking features
Free titles, effects, and templates
Cons:
No motion tracking
Lacks audio ducking
5. Final Cut Pro
Like Premiere Pro, Final Cut Pro is considered one of the most professional video editing software.
Several production houses and content creators won't bother opting for Final Cut Pro while editing videos for YouTube or other social media platforms.
Pros:
Advanced color correction
Support for TouchBar
Magnetic timeline
360+ HDR features
Cons:
Lacks the reliable audio tools
6. iMovie
Although iMovie is only available for Apple users and doesn't get updated regularly, it is still worth a try for several reasons.
For instance, iMovie allows you to cut or trim the video and apply eye-catching themes, transitions, and more. Along with offering a simple user interface, iMovie ensures the video you import into this tool doesn't get compromised.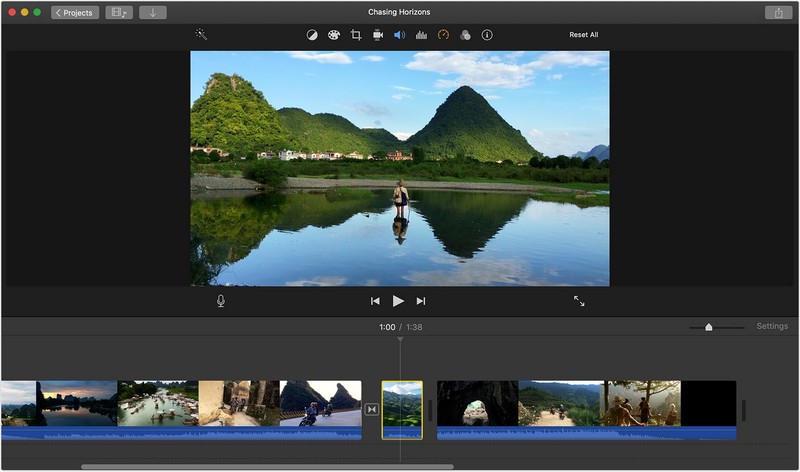 Pros:
Free to use
Powerful trailer function
It comes up with the modern video editing features
Cons:
It only works on Apple devices
7. Corel VideoStudio Ultimate
Corel VideoStudio Ultimate is another reliable video editor for creators who can generate excellent video content without asking you to put in the hard yards. By offering support to 4K or 8K, this tool aims to come up with the most advanced and professional features.
When you talk about the interface of VideoStudio Ultimate, it doesn't disappoint you; it helps even newcomers explore all the features to a significant effect.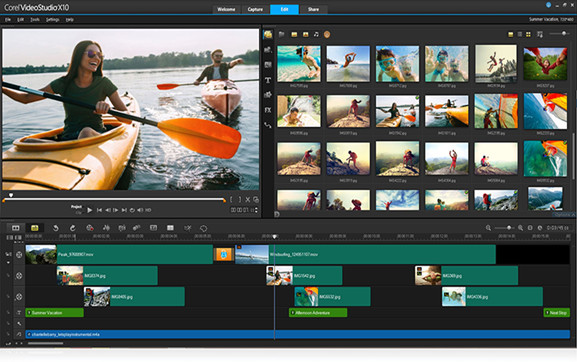 Pros:
Stop motion feature
Powerful color grading
3D and 360 tools
Offers the simple user interface
Conclusion
Finding the best video editor for content creators was considered a difficult task. Still, the scenario has changed dramatically, as now you can find the best tools to edit the video. This post will be beneficial in explaining how good the tools could be which are mentioned in this post.
You can watch out for all the tools given in this guide, but nothing gets better than TunesKit AceMovi Video Editor emerging as the best video editing software for content creators. It is highly recommended software for content creators citing the mouthwatering features and user-friendly it brings to the table.