Just got your new Mac and now planning to hit the road of making videos go viral on YouTube, Facebook, TikTok, or other platforms? Windows users can directly and practically edit the video with the help of the built-in Windows Movie Maker, sadly, there is no inherent movie maker on Mac.
And when we talk about the best video editing software on macOS, iMovie and Premiere Pro may emerge from the water. But to discover more creativity and edit videos with great easiness, considering other options will be a piece of better advice. Whichever, that depends! In today's post, I'll show you the 10 easiest movie makers for Mac with unique features and effects. Let's get this started now.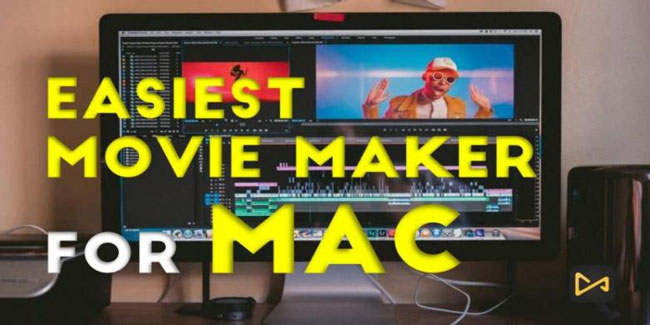 Top 1. TunesKit AceMovi Movie Maker for Mac
The first movie maker for Mac that we would recommend herein due to its fully-designed functionality and great easy user experience is called TunesKit AceMovi, which is crammed with video editing tools of Recorder, Trimmer, Reverser, Screen Splitter, Sound Equalizer, Converter, Pitch Changer ...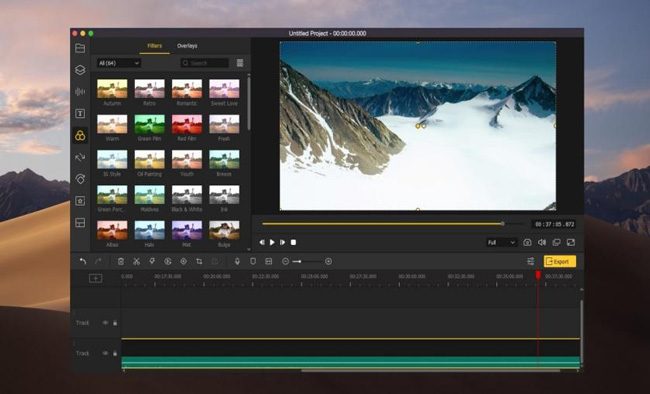 Here you can try hundreds of applicable video elements as well, for example, when adding a subtitle to the timeline, you can go to the Text template to choose from static texts and dynamic texts. Other beautiful and frequently-used elements include transitions, overlays, filters, and regional effects (mosaic, blur, colornot, magnify, etc.).
AceMovi is the easiest movie maker whose trial version can be downloaded free for Mac users anytime and anywhere. When it comes to creating what you can imagine in the video editing world with this video editor, just begin with installing and launching AceMovi here!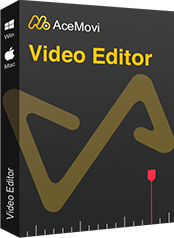 TunesKit AceMovi Video Editor
Security Verified. 9,046,344 people have downloaded it.
Pros:

Convenient editing process
Download and install free for Mac
A vast library of music and sound effects
Split-screen, Pip, Chroma Key, Clone, Equalizer, Etc.
Low cost of subscription
HD format convert and export
Cons:

You can download the new-made video in the best format for YouTube yet you cannot share the URL on your personal YouTube account
How to Use TunesKit AceMovi Video Editor on Mac?
Download and install the TunesKit AceMovi Video on your Mac computer. Follow the steps below to crop, trim, and add transitions using the video editor.
Import Your Movies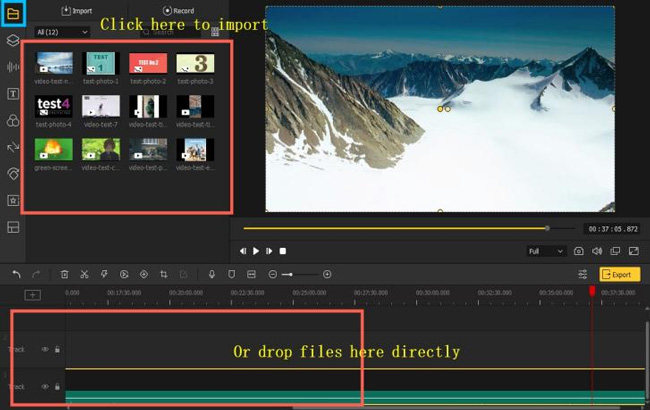 Import the video you want to make into the software. You can do this using the Import icon or dragging the video to the editing timeline.
Common Edits: Trim, Title, Transitions, and More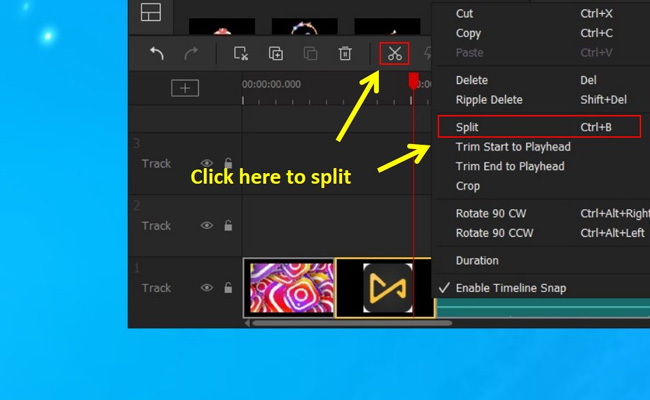 Trimming: To trim the video, hover your mouse over the video. On highlighting the video on the editing timeline, drag the edge forward or backward and cut the unwanted part.
Transitions: Click on Transition to open a list of Effects you can use. Select the one you love and drag it to the editing timeline. You can further edit the transition effect as you like.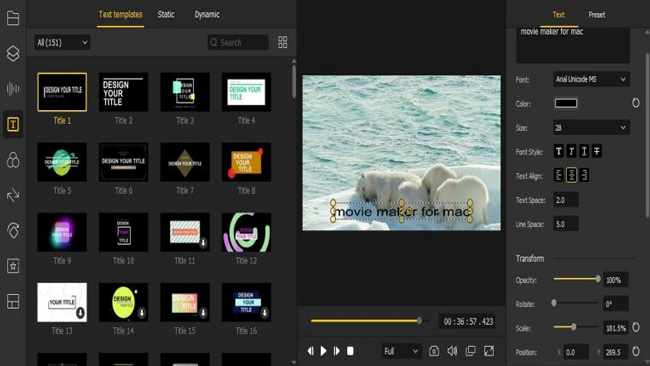 Title: Click on the Text to open a list of Texts available. Select the one you want to use and drag it to the timeline. You can edit the duration of the text by dragging the start or end of the text.
Save and Export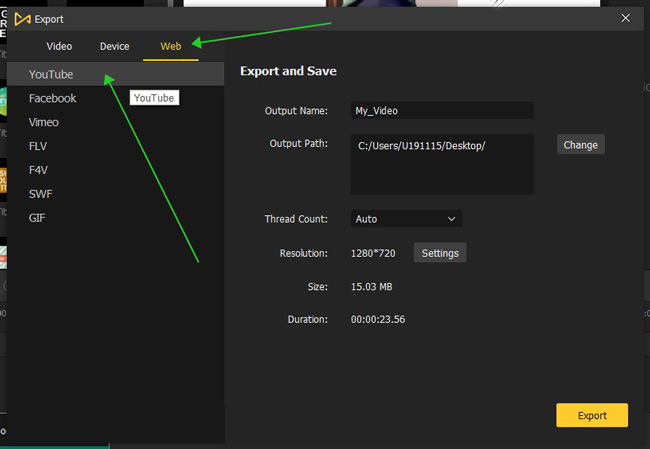 After editing the GIF, save it on your computer. There are many output formats you can use such as M4V, MP4, AVI, 4K Video, WMV, and DivX, or you can choose to download video at phone files(Device) and social media files(Web). Trip start from here!
Top 2. VideoProc Vlogger Movie Maker for Mac
VideoProc Vlogger is a powerful and professional movie maker for Mac free. This tool is interesting because it incorporates intuitive hints to edit videos, such as the GIF Maker and Video Mirror. Small editing functions possible on the software include trimming, cutting, splitting, denoising, and watermarking. Unlike Windows Movie Maker and iMovie, VideoProc Vlogger has many supported codecs. But there is a limit that you can edit a 5-min video maximum.
Besides, VideoPros is good at organizing your video and editing multiple files simultaneously, for example, if you want to trim more than one video, just import and you'll see all the files queued on a page, and then all you need to do is click the Cut icon.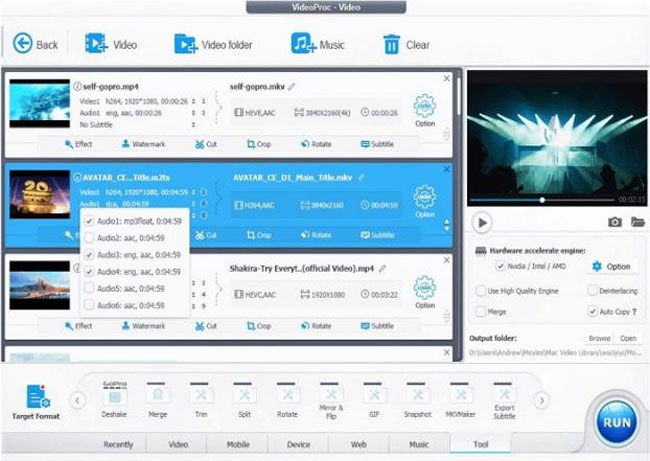 Pros:
It is highly easy to operate and very user-friendly
It has high functionality
Quality-lossless editing
Supports about 420+ input and output formats
Cons:
Not suitable for low-end systems
5-min media file limit on the trial download
Top 3. iMovie Movie Maker for Mac
iMovie is one of the most frequently used movie makers for Mac free and is featured with lots of transitions, filters, text templates, audio effects, as well as background colors. Don't underestimate iMovie's interface with which you'll be able to unlink the audio and video, detect movement, edit video with the green screen, and make split-screen videos.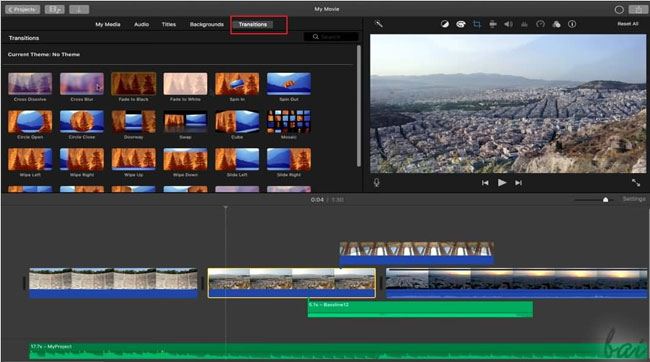 Another great point that makes iMovie become a very good Mac movie maker lies in its stability and convenience. There are no ads and no lags at all when rendering effects. So if you want to turn your photogenic pics or clips into cinema-quality video, iMovie must be one of the options. Besides, you can download iMovie on iPad and iPhone.
Pros:
Clutter-free interface
Stable & watermark-free
Extra-special effects like SlowMo
Simplified soundtracks
High-fidelity filters to deploy
Cons:
You need to prepare more HDD space
Top 4. Lightworks Movie Maker for Mac
Lightworks, as an advanced easy-to-use movie maker for Mac, is known for its fully customizable user interface and quick-access menus. It has a wide range of features making it an alternative movie maker for those who fancy ease of use. Lightworks movie maker has non-linear editing capabilities and many functions.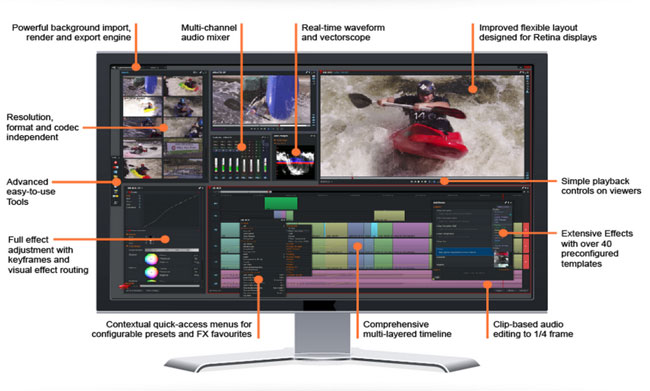 It has free and paid versions with the astronomical difference between both versions. For example, the free version does not have full HD export and timeline rendering. You can export your file in many output formats or directly to social media sites using the web feature.
Pros:
It is online and easily accessible
It has many editing functions such as resizing, cropping, and effects
Allows conversion to other output formats
Great VFX editing
Color grading performs well
Cons:
Many editing options are hidden and are hard to find
It has difficulty working with MKV videos and GIFs
Top 5. Adobe Premiere Pro Movie Maker for Mac
Adobe Premiere Pro, a member of Adobe products, is professional and smart in editing video and is deemed as one of the easiest video editors for Macbooks. Although this is not a free tool, you can try a lot of edits on the trial version. For instance, the Speech-to-Text will help you create captions automatically no matter it's a dialogue or others.
More techs like Auto Reformat(Square, Vertical, 16:9, or 4K Video Resolution), Adobe Stock, Color Matching, etc. There are many workflow parts to editing video including Media, VFX, Color, Sound, Split-Screen, Green Screen, and so on. As a result, you'll edit a Mac video on the special window.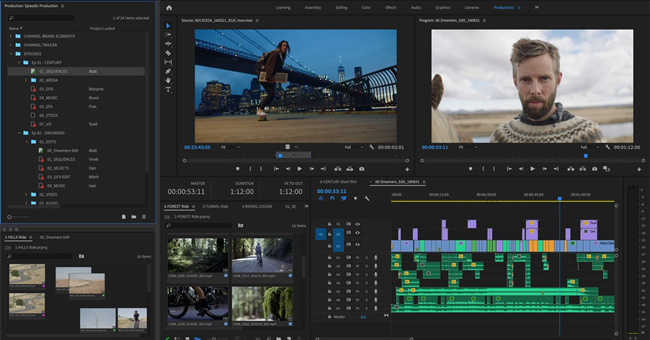 Pros:
Technical movie maker for Mac
Automatically fit resolution
Great color wheels and matches
Import/Export 4K & 8K videos
A plethora of features
Cons:
Not a free Mac movie maker and required a high-end computer system
Top 6. MiniTool Movie Maker for Mac
Minitool movie maker for Mac is a software available on Apple that guarantees a cleaner, crisper, and more professional layout. This makes the program very intuitive to use. It is a good alternative for people new to movie making due to its functions. Editing functions on the software include cutting, splitting, combining, filter adding, text addition, and adding sounds.
MiniTool compiles a set of popular and flexible transition modes and all of them can be checked in real-time. More importantly, this Mac movie maker contains a slideshow maker to create videos with photos, which is an amazing effect to get more likes and followers!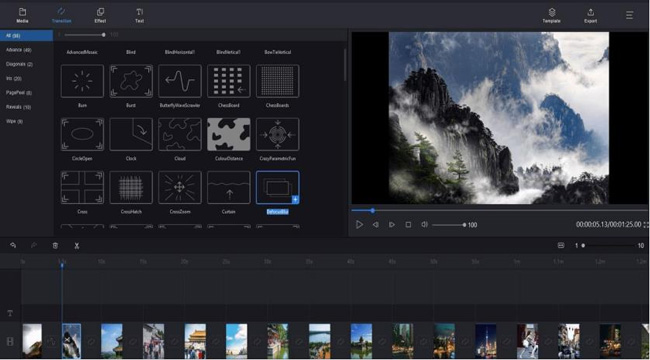 Pros:
Provides a lot of video templates
Supports kinds of output formats
Popular transitions and effects
Free and simple to use
Cons:
A limited range of features
Non-customizable effects
Top 7. MacXvideo Movie Maker for Mac
MacXvideo is a free movie maker for Mac that is smart and comes with fast video editing features. It has a highly intuitive interface that can help you edit and convert any format of videos. Editing functions on the software include cutting, rotation, trimming/splitting, subtitle adding, and effects adding.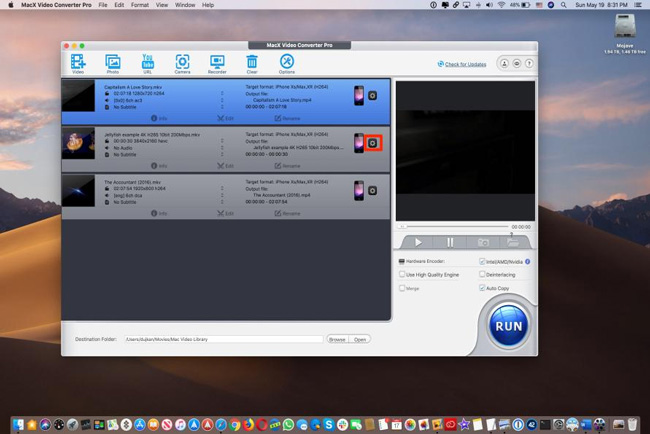 MacXvideo also supports many output formats making it suitable for making videos for social media platforms such as YouTube, Facebook, and Vimeo. You can download it on Mac for free from any app store. What's more, almost all formats of video and audio are supported.
Pros:
User-friendly for beginners
Convert a lot of types of videos, audios, and images
Import/export video URL
Capture video by the Screen & Webcam Recorder
Quickly export/convert video
Cons:
It is a linear video editor
It does not have many effects and filters
Top 8. VLC Movie Maker for Mac
VLC player is known more as a media player and video transcoder. However, it has some hidden editing features suitable for people who want a free and easy-to-use movie maker for Mac. Editing functions on the application include cutting, merging, rotating, cropping, color adjusting, overlaying, motion blur, 3D effects, and watermark.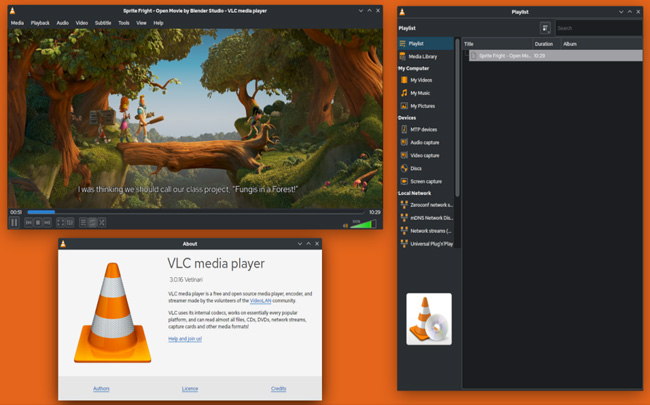 As a wholly free and open-source movie maker for Mac, VLC can be manipulated to sync soundtracks. More plugins and extensions include Audio CD input, Real RTSP, NFS input, HTTP input, and Digital Television and Radio. In fact, VLC is an uneasy Mac video editor, but you can discover more amazing features with this tool.
Pros:
It has many editing functions such as looping, resizing, and splitting
A HD and 4K video player
Suitable for making sound effects
Allows conversion from output formats to GIF
Rotate video at any degree
Cons:
The editing features are deeply hidden
It is not intuitive
Top 9. Avidemux Movie Maker for Mac
Avidemux is a linear movie maker for Mac OS when looking for simplicity without a loss of functionality. With the software, you go straight down to business, as you will not spend time messing around with effects and transitions.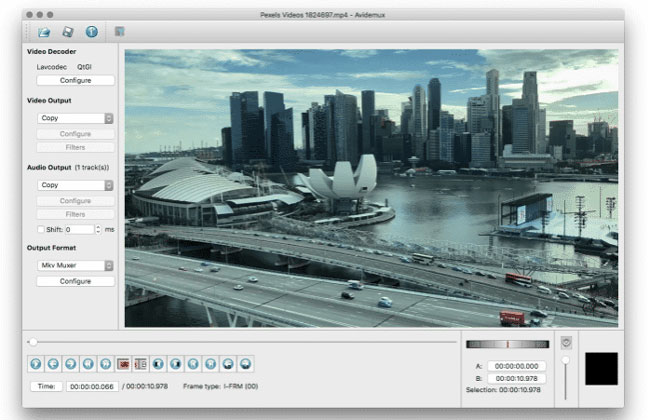 Avidemux has non-linear editing with many editing functions such as visual effects and subtitle processes that can spice up your video. It also supports many output formats making it an ideal choice for people who work with social media platforms such as YouTube, Vimeo, or Facebook.
Pros:
Non-linear editing
Simple to process and apply built-in tools
Supports many downloading formats
Decode video powerfully
No watermark
Cons:
No transitions and filters
Top 10. Shotcut Movie Maker for Mac
Shotcut is an open-source and free video editing software available on Mac. It has a straightforward UI and many useful tools, ideal for beginners and pros alike. There are no preset themes. However, they have many transitions and filters for your project. Editing functions include cropping, watermarking, speed change, sharpening, flipping, rotating, and addition of filters and texts.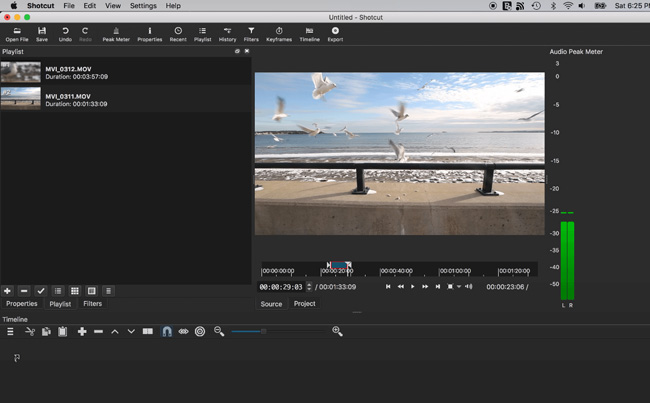 Pros:
Watermark-free movie maker for Mac
Qualified transitions and filters
Audio peak meter
Endless tracks
Export without watermark
Conclusion
To get the best video editor for mac, not only should you pay attention to the pricing and VIP services but also you need to install and try it practically. Hoping this post will help you find the best video-making assistant and turn your video go viral!