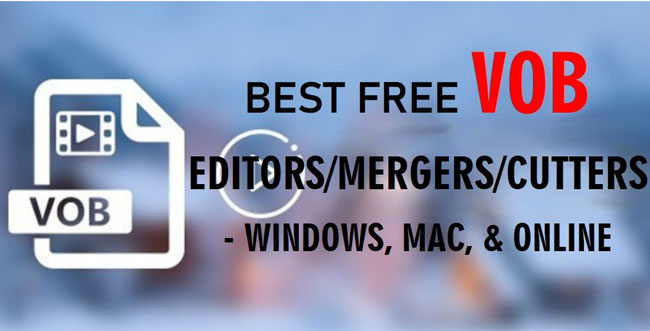 VOB is a container format that belongs to DVD-Video media members and it comprises digital video, audio, subtitles, DVD content (menus and navigation). Usually, the VOB video will be encrypted after being extracted from most commercial DVDs as the copyright protection. In this manner, how can we find the best free software edit such locked or free VOB video with ease? Don't worry! Six best free VOB video editors for Windows 10 and Mac, including VOB cutters, mergers and online solutions will be recommended to you in today's article. Now come with me to see the top-list below.
Best Free VOB Video Editor on Windows 10 & Mac - AceMovi Video Editor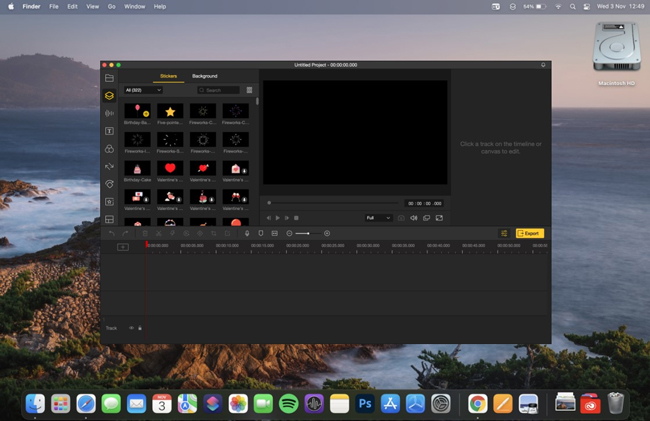 Comes with a clutter-free & easy-to-grasp user interface, AceMovi can be credibly described as one of the best VOB video editors for both personal and commercial utilization. By AceMovi, not only can you import common & encrypted VOB files, but you're available to export the new-made VOB videos into vast choices of video formats in original or HD quality, like MP4, MKV, AVI, MOV, MEPG-1/2, WMV, and more.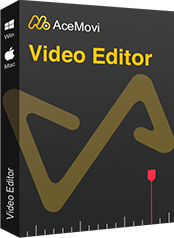 Key Features of AceMovi Video Editor
Security Verified. 5,481,347 people have downloaded it.
Reasons to Select:

VOB files: easy-to-grasp steps & all-sided guides
UI: Clean interface & effortless process
A plethora of elements: filters, texts, music, & animations
Pro features: split-scree, Pip, Mosaic, & Regional
Good compatibility: downloaded on almost all the PC and Mac
Free version: no times and length limitation
Downsides:

Little watermark printed
Besides, AceMovi laid 9 major item trays by which you can apply most built-in features on VOB videos, for example, the Elements (seems like two stacked books) provides you with 290+ genres of stickers and background, while you can find Mosaic, Magnify, Blur, and more advanced effects within the Regional (seems like a star).
And here, let's see how to merge, cut, & add transitions on VOB videos by AceMovi.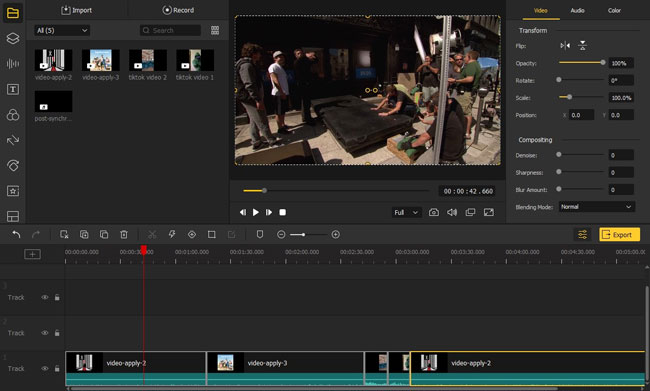 To get started, you should import the VOB files by drag-and-drop or click those tabs Import > Add to the Timeline, then move the VOB thumbnails one by one in the Tack 1 (you can apply sound, image, background, and more on other tracks), meanwhile, you can play the new VOB video in real-time to check if it's okay.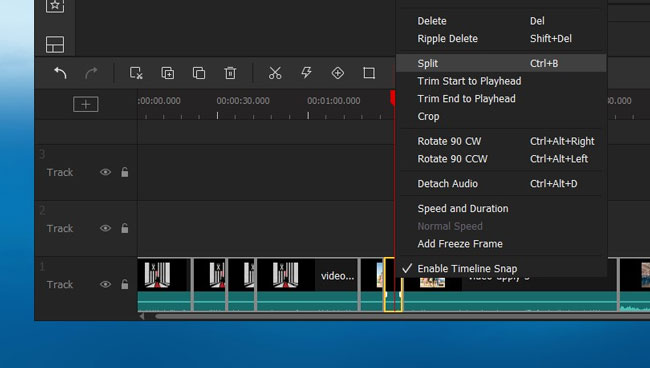 Want to cut VOB videos? Three ways for you - right-click to choose the Split option; Shortcut "Ctrl" + "B"; the Split icon (shaped like a shear) above toolbar. By the way, you should keep in mind to move the red controlling line upon the timing points before cutting.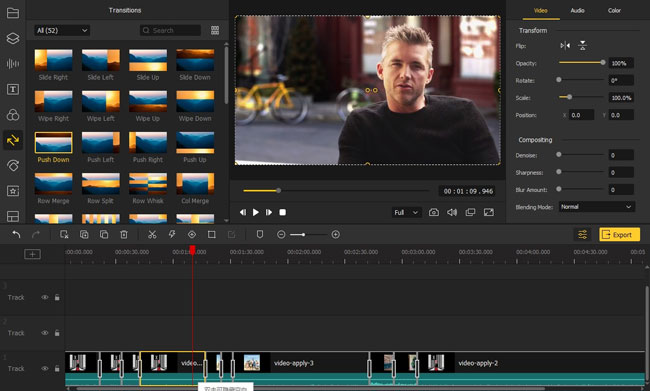 AceMovi designs 50+ kinds of transitions that can be used to smooth and soft the VOB videos for free. To add transitions, you can drop them between adjacent VOB clips and adjust the duration & Mode on the right-hand side.
Those are some basic tutorials of how to merge, cut, & add transitions on AceMovi Video Editor, if you want more guides, just visit the official website of AceMovi to check its Resources unit.
Other 5 Best Free VOB Editors Offline & Online [No Watermark Included]
1. WinX DVD Ripper Platinum (Windows & Mac)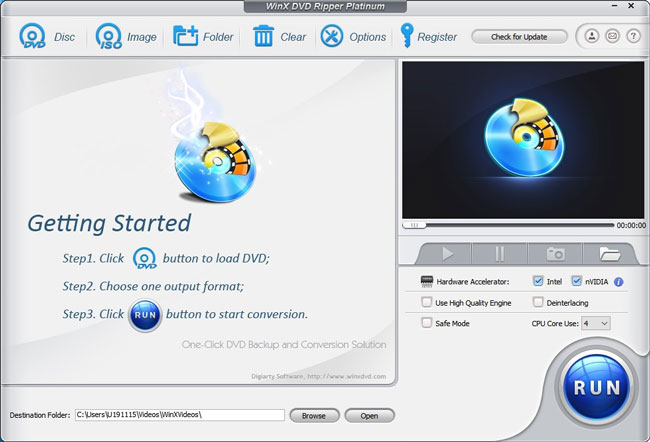 Being one of the best VOB video editors, WinX DVD Ripper Platform can process any kind of DVD or derived-DVD video files whatever it's free-to-share or encrypted, regional, unplayable, new, & burned. Besides, Mac users now can have Winx for VOB cutting, merging, editing, cropping, & rotating VOB videos without losing video quality.
What's more, Winx has a very simple layout and toolbar - Disc, Image, Folder, Clear, Options, and Register are set above to use, so you're empowered to get all the features in three steps averagely.
Guides: You can follow the three-step to convert VOB video into MP4: firstly, click on DVD Disc or DVD Folder to input VOB clips; then, select the MP4 Video (H.264/MPEG4+AAC) format; lastly, press on the RUN icon. By the way, in the second step, you can cut and merge VOB video or add subtitles as want.
Reasons to Select:

Supports 350+ kinds of video, audio, & image formats
Easier learning curve to edit/merge/cut VOB videos even it's encrypted
Backup DVD or derived-DVDs to MPEG video in fewer minutes
More flexible parameters include MOV video codec, frame rate, bit-rate rate, etc.
Downsides:

Limit in features & time (5-minutes free)
2. Movavi Video Editor (Windows & Mac)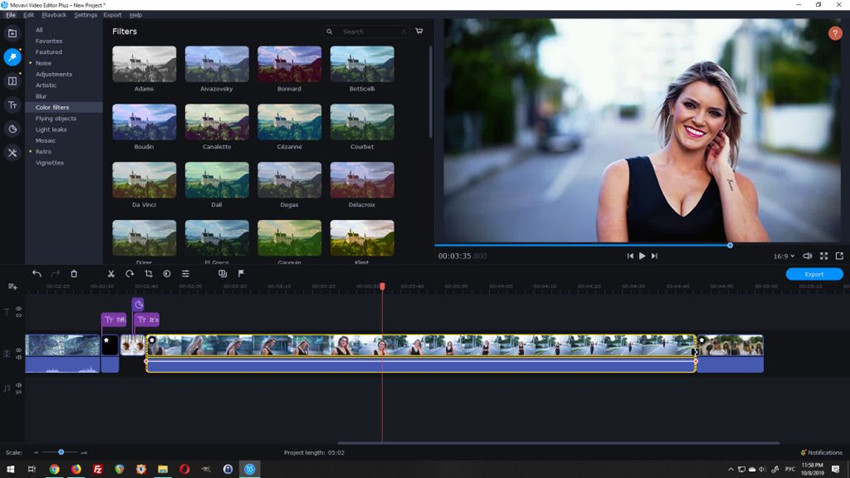 Movavi Video Editor designs more advanced tools to edit VOB videos, as you can see, the left item menu contains six main categories and then divided the six into hundreds of sub-categories. That is to say, for example, users are accessible to some of the features to edit VOB video like Color Adjuster, Pan & Zoom, Crop & Rotate, Slow-Motion, Chroma Key, and more just within the single sub-category Video Editing from Tools (shaped like a wrench).
Guides: With Movavi, to split and remove some parts of VOB videos, you have to move the red controlling line from the cutting point A (the starting point) to the Point B (the ending point), during the process you can preview the segments left after this cutting, when all are set click the Delete sign.
Reasons to Select:

Easy-to-understand UI that contains varied categories & sub-categories
More advanced tools to edit VOB video like motion-tracking & Pip (picture-in-picture)
Designs with chroma-keying and 4K rendering system
Built-in training tutorials to get familiar with it easily
Downsides:

Doesn't support H.265 & your trial version will be expired after 30-day use
3. DVDFab Toolkit (Windows & Mac, No Watermark)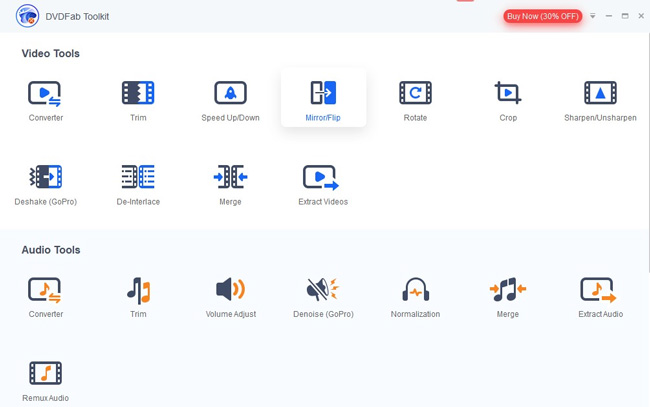 DVDFab Toolkit is a comprehensive multimedia and creative minds software that you can download on Windows and Mac, featuring an elegant layout and separating the tools of video, audio, image, watermark, & subtitle into different functional plates. With DVDFab, you have two choices only to output VOB files - MP4 & MKV, but you can change the resolution of VOB files into eight different sorts from 320*240 to 1920*1080 (HD) and nine frame rates from 15 to 60.
Guides: In the video tools, you can convert, trim, speed up/down, mirror/flip, and more, viz., and if you want combine or split VOB videos, all you need to do is open the Merge or Cut icon and follow the ready-made workflow .
Reasons to Select:

Use AI up-scaling to bump up the low-resolution VOB into higher qualities
Processing batch VOB files at the same time by the hardware-accelerated system
Able to remove DRM & Cinavia protection inside DVDs and derived-DVDs
Watermark removed on the demo version
Downsides:

The free version supports 5 minutes only & a harder learning curve
4. Clideo (Online)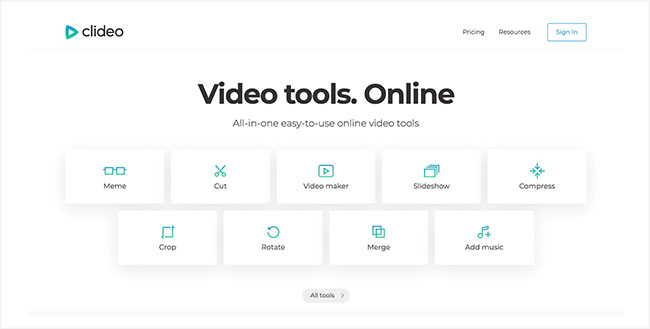 In the following two sections we'll have a view of two online VOB video editors. To begin with, let's see why the Clideo performs in editing VOB files very good - Clideo gets an easy-to-use interface yet some high-tech functions like Loop, Stop-motion, Reverse, Meme, & Speed, etc., meanwhile, that's also a big different big that you're allowed to enjoy integrated guides in the website.
Guides: Let me give you an example, when you want to create the meme with VOB files, you need to choose from the 9 meme templates and upload the VOB videos firstly, then add emojis & texts and choose from built-in features if you like, lastly, download it or share with e-mail, Facebook, & more.
Reasons to Select:

Straightforward and easy-to-follow menu
A plethora of elaborately-made templates
Up to 22 kinds of tools to edit/merge/cut/... VOB files
Online use applicable without any software downloading
Downsides:

$9 per month at least is needed to remove the watermark from your new-made VOB files
5. 123APPS (Online, No Watermark)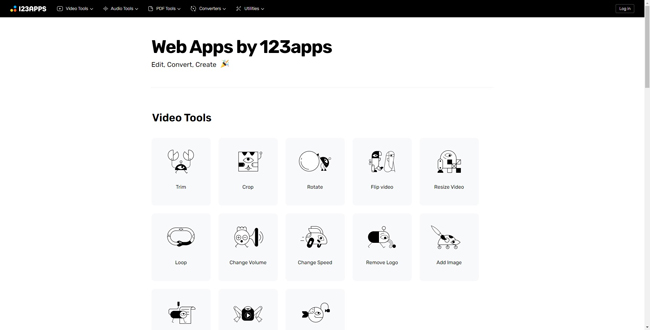 What are the major differences between Clideo and 123APPS? It lies in that 123APPS provides more precise VOB editing tools with categories and sub-categories. To be detailed, you can find Video Tools, Audio Tools, PDF Tools, Converters, & Utilities above the toolbar, and it's very easy to commence trim, crop, rotate, loop, & stabilize VOB videos by opening up the drop-down menu Video Tools.
Guides: Unlike Clideo, you can export VOB video into MP4, MKV, & MOV with no watermark and no register as preconditions. By the way, the guides to merge, cut, and edit VOB video are same a s Clideo.
Reasons to Select:

5 main categories with 39 precise sub-categories up to now
Motion-tracking and high uploading & downloading speed backup
Edit VOB videos with no watermark added and no log in beforehand
Sketchy cartoon style on UI - seems like animals in black and white
Downsides:

Go to crashes especially in applying the motion-tracking (better with faster internet)
The Last Words
Here's the end of today's talking, hoping you can find the best VOB video editor by comparing the ins & outs of the six software above. When it comes to the limitations of their offline trial versions, AceMovi Video Editor's free version was published with no duration & times limits at all. And if you'd like to use an online video that carries no watermark, 123APP is worthy of a try.