Since the content-watching audience has become pretty intelligent, you can't expect them to appreciate ordinary, low-quality content. While generating video content for any social media platform, the introduction tells the audience what to expect from your content.
Thus, you must pay massive attention while making an introduction for the video, and for that matter, looking at the best intro maker software for PC is a beautiful idea. To help you explore the brilliant intro maker for PC, this guide will reveal the 7 intro makers for PC.
Part 1. TunesKit AceMovi - Best Intro Maker for PC
Crazy things do happen, and you might see something happening you'd not have expected earlier.
The same goes for AceMovi Video Editor, which emerges as the best intro maker software for PC, allowing you to satisfy the audience with your video content. Offering mouthwatering video templates and filters along with providing you with an eye-catching text style is what TunesKit AceMovi Video Editor is brilliant at giving you.
It categorizes every video filter or effect you use in the intro. The best thing about the TunesKit AceMovi Video Editor is that it doesn't affect the quality of the video while editing it. Even the most significant issues with your video will be handled through this excellent PC intro maker.
Apart from making the intro video unforgettable, AceMovi Video Editor also holds the ability to manage the complete video by adjusting its parameters, making it worth admiring.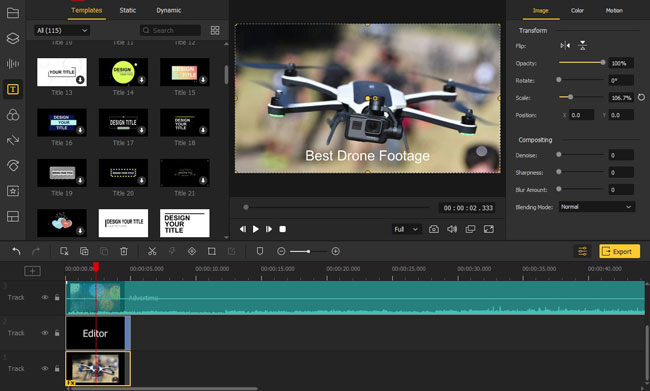 Pros:
It has flawless filters, transitions, picture-in-picture effects, and more
Offers the intuitive user interface
Allows you to add the excellent text feature to the video
Supports the multiple audio and video formats
Blesses you with an immaculate text feature
Doesn't bother tinkering with the quality of the video while generating the video intro
100% safe
Offers the mind-blowing technical support
Cons:
The free version comes up with a watermark
Part 2. 6 Other Intro Maker Software for PC
Apart from using TunesKit AceMovi, you can also look at the 6 best intro maker software for PC.
1. PowerDirector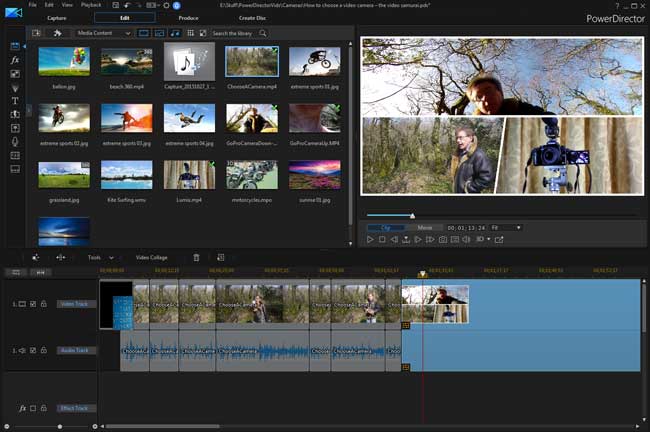 Searching for the best intro maker software for PC might take a lot of precious time, but the award-winning software, PowerDirector, makes it all easy for you.
With it, selecting hundreds of video templates and customizing your needs takes only a few minutes to generate a top-notch intro. Besides being a reliable PC intro maker, PowerDirector offers many excellent video editing features.
The noticeable thing about the PowerDirector is that it comes up with the AI-generated results editing the video automatically.
Pros:
It offers the brilliant motion graphics
It comes up with the greens screen effects
5000+ video template
Generate the terrific and eye-catching intros
Cons:
Free users can't explore the stock assets
2. Canva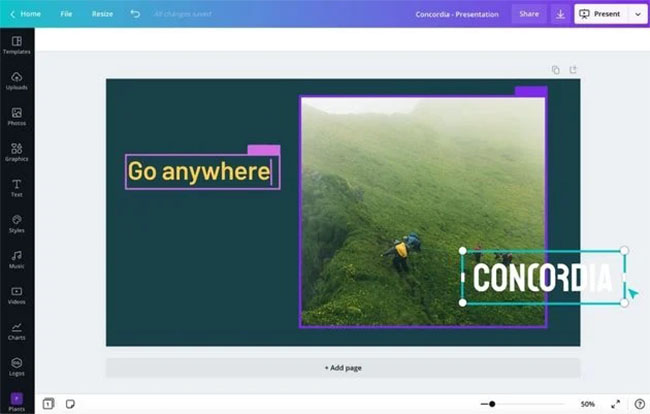 Generating eye-catching and eye-pleasing video intros has become a simple courtesy of Canva.
Since Canva is free, you don't need to pay anything while making brilliant video intros. The video templates Canva comes up with are something you won't associate with any other YouTube intro maker software for PC.
Canva categorizes the templates by Department or Industry, such as Marketing, Sales, or Internal Communications. With offering royalty-free stock assets, Canva is all set to make your video intros worth watching. Apart from applying terrific royalty-free stock assets, customizing the templates is also possible.
Pros:
Comes up with the inspirational animations
Offers the eye-catching transitions
Blesses you with the mind-blowing logo templates
Free stock assets
Templates for documents, including resumes
Cons:
Downloading the Raw file to PC isn't possible
3. Blender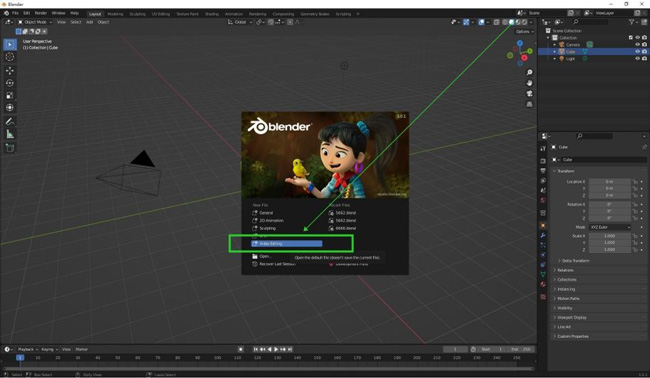 If you're looking for a reliable intro maker for PC that offers the perfect animation styles and templates, Blender is something you should be looking at.
This software's credentials are beyond your imagination, helping you generate YouTube intro through visual effects and animation. Moreover, it allows you to use industry-standard stimulations in the video, adding another dimension to your video.
This intro maker for PC holds the ability to generate cinema-level content without having to acquire prior knowledge of Blender. Since Blender has a simple user interface, many people recommend using this extraordinary intro maker for software.
Pros:
It offers a brilliant Masking Tool
Explore the audio editing features
Comes up with the advanced motion graphics
Edit the video in 3D space
Comes up with the professional visual effects
Cons:
Cluttered menus
Doesn't come up with the reliable video intro templates
4. DaVinci Resolve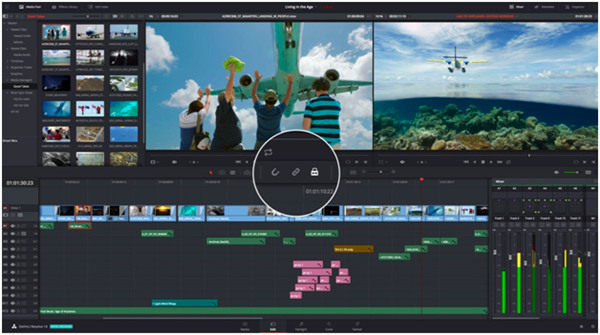 You can explore some more video editors to create an engaging video intro, and DaVinci Resolve is undoubtedly one of the options you should aim for.
With DaVinci Resolve, you can easily cut your video footage together and create motion graphics and cinematic visual effects. Although this intro maker for PC doesn't come up with any ready-made template, it allows you to opt for some third-party eye-catching templates without any fuss.
It is also known as a post-production video editing tool that aims to provide you with complete video editing, making it flawless.
The interface of DaVinci Resolve might be tricky for newcomers, but you can master using this excellent tool in a while.
Pros:
Offers the remarkable animated titles
It comes up with brilliant audio editing features
Explore the color grading and correction
Allows you to edit the over 2000 video clips
Cons:
Comes up with the tricky user interface
5. Renderforest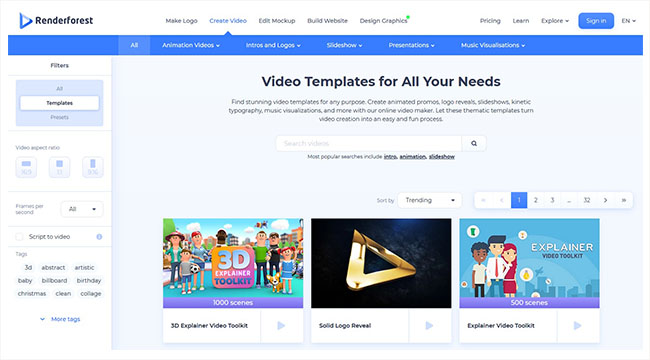 If you're interested in making the intro of a video without a watermark, Renderforest might be a reliable option to have on your hands. From providing you with eye-catching video intro templates, effects, filters, and more to coming up with a manageable user interface, the credentials of Rendeforst speak volumes about this exciting video editor.
Some of the templates this software comes up with are genuinely brilliant and won't shy away from making the video look stunning to watch.
Editing the video on Renderforest is way too easy as it requires you to import the video to the main interface of Rendeforst and begin editing it.
Pros:
Brilliant animation effect
Easy to use
HD quality
Cons:
Templates come up with some restrictions
6. Premiere Pro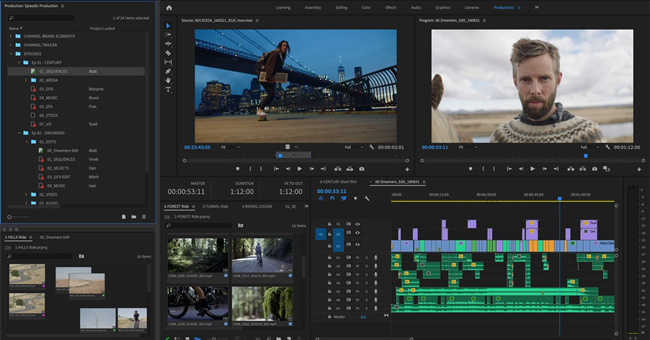 We also include the Premiere Pro in our list of revealing a reliable intro for PC. It is an incredible video editing tool that offers the perfect and top-notch video editing features allowing you to come up with unique and eye-catching video intros.
The interface of Premiere Pro is professional, and users need prior knowledge of it to find it easy to start using this intro maker software for PC. Overall, Adobe Premiere Pro is worth trying as a video editor, and you must try it at least once when finding a reliable intro maker for PC.
Pros:
Offers the professional and advanced features
It comes up with eye-catching filters and is effortless
Explore the various remarkable video intro templates
Excellent technical support
Cons:
Offers the intuitive user interface
Conclusion
Having the worst intro of a video won't serve your purpose of impressing YouTube or other social media platforms' audiences. If you want to explore reliable intro maker software for PC, this post could be a gamer changer.
With offering 7 majestic and splendid Intro makers, we've also recommended the best intro maker software for PC in the shape of TunesKit AceMovi Video Editor. It has a user-friendly interface that empowers you to make your video sound and look out of this world and stunning to watch.