Every clip of life is worth cherishing and capturing. Whether you want to share your videos or showcase your masterpieces on social platforms, an easy and fully-featured video editor always plays an important role with endless possibilities. After recording videos and taking photos successfully, the next thing is to make edits of the footages. When it comes to video editing, I'd like to say that EaseUS is one of the easiest video editing software to choose from, which is packed with a set of features and elements to make your work become easy and stand out. Here we'll review the EaseUS video editor in today's post from head to tail, along with basic beginners' tutorials. Let's go!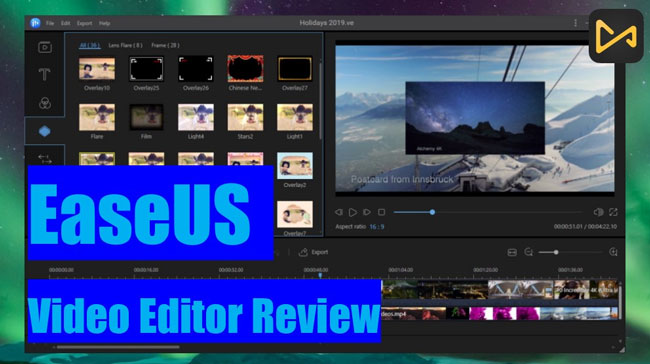 EaseUS Video Editor: FAQs
Is EaseUS Video Editor Free?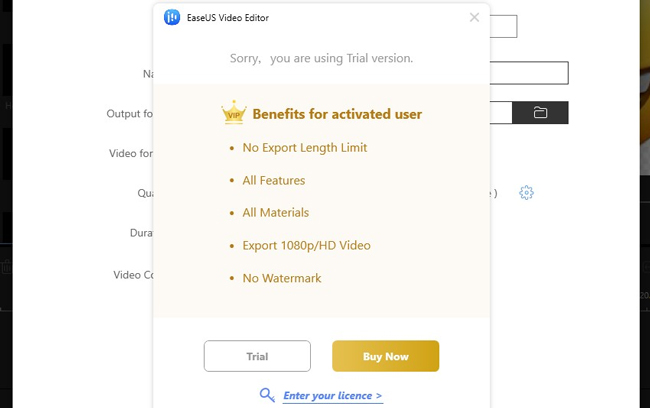 In fact, EaseUS comes with a trial version and a paid version, here are the services after buying the full license: No Export Length Limit; All Features; All Materials; Export 1080p/HD Video, and; No Watermark. You can download the trial version for free on Windows 11, 10, 8, and 7.
Is EaseUS Video Editor Easy for Beginners?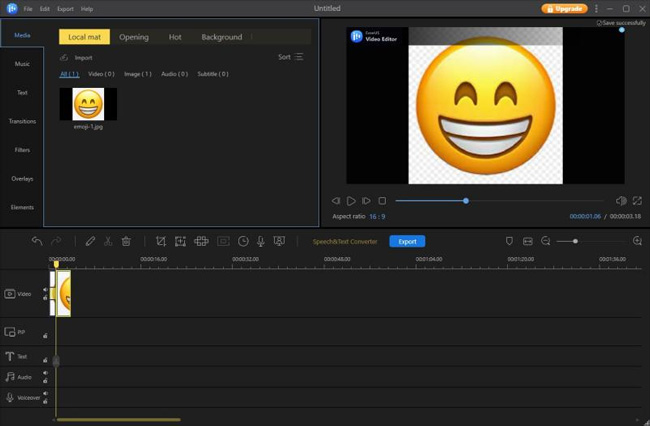 Yes, EaseUS was made with a clean and beautiful user interface that helps you to navigate to all-important video editing options, Import, Music, Text, Transitions, Filters, Overlays, Elements, Trim, Crop, Zoom, Keyframe, and much more are included. Besides, the track area is split into video, PiP, text, audio, and voice-over. You can do the drag-n-drop to import files directly.
Does EaseUS Video Editor Have a Watermark?
Yes, on the trial version of EaseUS Video Editor, you'll see a branding watermark after exporting. So you need to buy the subscription in case you want to remove the watermark completely.
What's the Best Alternative to EaseUS Video Editor? It's TunesKit AceMovi!
TunesKit AceMovi Video Editor is the best alternative to EaseUS. You'll find that EaseUS lacks popular features and effects for short videos and vlogs, such as the split-screen, slow- and fast-motion, reverse, blur, and Chroma Key. And the formats supported by Ease are limited to MP4, AVI, WMV, MP3, and GIF. You cannot export in phone formats and social formats.
TunesKit AceMovi brings hundreds of brilliant tools such as Trimmer, Cropper, Cutter, Slow-Motion Maker, Slideshower, Blurrer, etc. The formats you can import and export include MP4, TS, MOV, AVI, WMV, WKV, M4V, DivX, DVD, HEVC Video, 4K Video, DV, 3GP, ASF, OGV, MPEG-1, MPEG-2, YouTube Format, Facebook, Format, and so on.
So, if you want to edit videos on Mac and Windows with more interesting tools and more funny stickers, go for TunesKit AceMovi Video Editor!
Comparisons: TunesKit AceMovi Vs. EaseUS
| | AceMovi Video Editor | EaseUS |
| --- | --- | --- |
| OS | Windows & Mac | Windows |
| Import/Export Formats | More | Fewer |
| Small Edits: Trim, Split, Crop, Zoom, Keyframe, Voice-Over, Drag-n-Drop, etc. | Full | Full |
| Advanced Edits: Split-Screen, Chroma Key, PiP, Slideshow, Blur, Mosaic, ColorNot, etc. | More | Fewer |
| Elements: Filters, Transitions, Overlays, Texts, Music, Stickers, etc. | Full | Full |
| Watermark | Has | Has |
| Rendering | Responsive | Responsive |
Download EaseUS Video Editor Crack for Free 2022
EaseUS can be downloaded on Windows only as said. Meanwhile, there are some websites where you can download EaseUS Video Editor Crack 2022 for free yet it's not advised because you may encounter issues of copyright and bugs.
You can click here to download EaseUS video editor's official trial version, which is 100% safe.
Add Text/Subtitle to a Video on EaseUS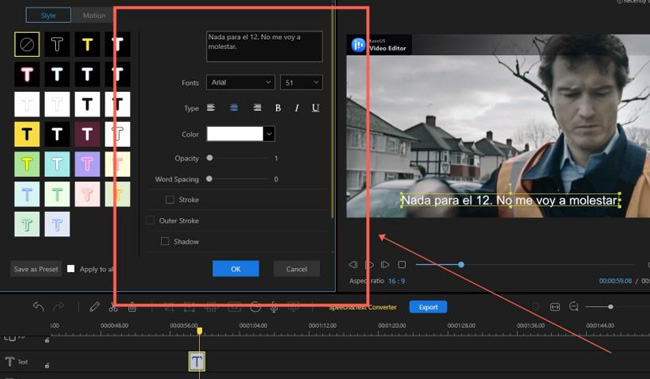 Want to add text to a video with EaseUS Video Editor? 30+ text templates are set in the menu including overlaying texts, subtitle templates, and title modes. Here you can directly drop the wanted mode under the Text track. Then double left-click the text to change content, color, opacity, word spacing, type, shadow, and more.
If you want to change the text duration, you can drag the edges of the text in the timeline. The canvas is able to customize the text's size and position.
Transitions, Filters, and Overlays of EaseUS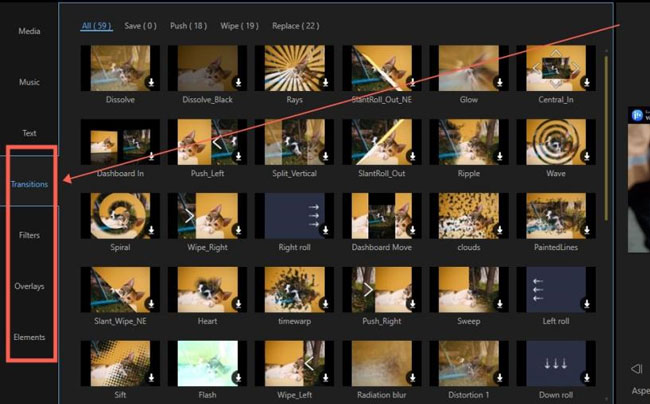 When it comes to the effects in EaseUS Video Editor, you can add transitions, filters, overlays, and elements. From the Transitions plate, the type of Dissolve, Rays, Dashboard, Spiral, Heart, etc., are available. You can click the button to download a specific type and press the + button to apply it.
There are hundreds of filters, overlays, and stickers in EaseUS, all of them can be tried in real-time. If you want to change the duration or split the item, just right-click it.
How to Split, Crop, and Zoom EaseUS Video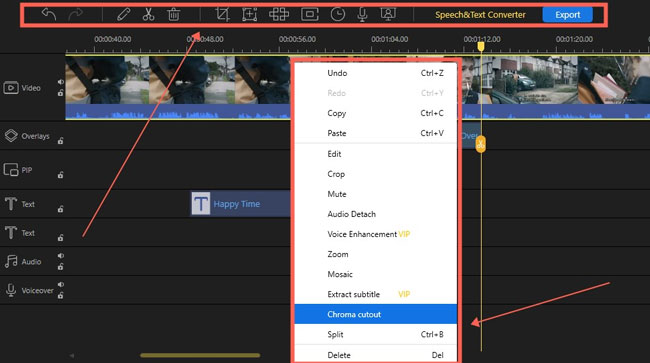 To make common edits with EaseUS Video Editor, you have 2 options. You can choose to hit the buttons from the toolbar like Video Splitter and Cropper. Or right-click the clip to choose the Crop, Mute, Audio Detach, Zoom, and Mosaic. Shortcuts are available like Ctrl + B for splitting and Ctrl + C for copying.
However, as said, some advanced edits like Voice Enhancement and Extract Subtitles need a full license.
How to Use Chroma Key and Mosaic Video on EaseUS
Chroma Key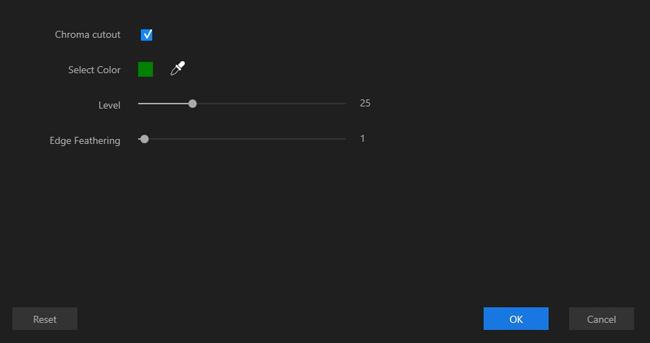 EaseUS Video Editor was designed with a technical Chroma Key effect to edit green screen videos. For using this tech, you can right-click the wanted clip to press the Chroma Key or go to the toolbar to find it. Now, you can choose to change the Choma Key color, set the level, as well as feature edginess. In this process, EaseUS will render your video in real-time.
Mosaic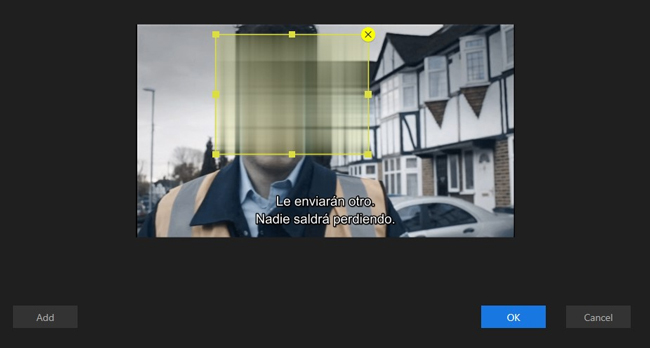 Use a Mosaic effect to cover someone's face in EaseUS, just right-click the clip to select the Mosaic line or go to the toolbar to find the button. Then customize the size and position of the mosaic area on the canvas. Click the Add button to add more mosaic areas.
Lastly
You'll find it easy to begin with EaseUS Video Editor and that's the reason EaseUS has attracted millions of active users. However, you need a VIP license to open up the world of advanced effects in EaseUS. If you are however looking for an EaseUS alternative with more advanced video effects, I'd recommended TunesKit AceMovi Video Editor. Just give it a try by clicking the download button below!